| | |
| --- | --- |
| Gaiscioch Community Notes | Issue 4, 2018 |
Cead Mile Failte!
Gaiscioch Community Notes - April 2018
Just a couple days left until i've defeated level 39 of life! Never thought I'd make it this far so I am super excited to be dinging 40. I am so happy to be able to share this journey with you guys. We have had some really great times over the past third of my life. I look forward to the next 40 and know that the best times are ahead.
This month has been quite chaotic. We've got a lot of things on the horizon and many of them are going to be exciting. Let's take a quick rundown of what's ahead for us as a community.
Directory
Get Involved
Gaiscioch Family News
Please Welcome Our Newest Elder
Haggal
A few months ago the Eldership team met and discussed a few new Elder potentials what we wanted to keep our eyes on. We watched and observed how they handled various situation and it just reassured us that they would be perfect for the job. As with all our elders, these members have a natural tendency to put others first and go above and beyond to help others even when it isn't beneficial to themselves. It is with great pride that we announce the addition of Haggal to the Eldership team.
Haggal has been with the community for a very long time. He has been supportive in a lot of ways including social adventure management, crafting and donating, and most recently he's helped us get our Warhammer Online chapter back off the ground, including doing much of the leg work for the Marketplace 3.0 concept. He's committed himself to Warhammer and is our primary face in game to the community. We will be bringing him on as an official representative of our community as he already is playing the part with flying colors. We appreciate his efforts and look forward to having his council on the team.
2018 Extra-Life Registration Now Open
The 2018 Extra Life Registration is now live. For those just joining Gaiscioch for the first Extra-Life event, every year for the past 7 years we participated in this event in a big way. We have been hosting a multi-day livestream event to raise money for the Children's Miracle Network for the past 5 years. Last year we evolved our event series to include giveaways and turned it into a full scale Public Community Event (PCE).
This year's event will look to expand our festivities to Friday November 2nd and will run through Sunday November 4th. Our goal this year is to raise $5,000 and we will be giving away games based on that progress. If you'd like to join the team, head over to https://gsch.info/extralife-register and get ready for one hell of an epic fundraising event!
This years lineup will include: Elder Scrolls Online, Guild Wars 2, Bless Online, Camelot Unchained, and many more!
Marketplace 3.0 in the works
So over the past month I've been developing a materials auto-pricing system to allow us to rapidly deploy new marketplace systems in our chapters that will balance material costs across all games we play. I've enabled the test in Warhammer Online to see how a small community handles the system and what pitfalls it encounters.
The system is built on Material Tiers which can be based off Skill Required to Use or Gather, Vendor Price, or Player Level to Acquire. Once we have the value that determines where it stacks in a tier structure we can apply a modifier (rarity/color).
The goal is not to gauge on in-game economy, but gauge it in our own economy across all games we play. So donating a rare material in one game can allow a player to request another in another game. It's also purposely built to be at a loss across the board. This allows us to celebrate and encourage the act of giving even when the reward is less than you gave. It's how we separate those who give without concern of the reward and those who take without concern of sacrifice.
Coming Soon
Earning Social Points for Watching Livestreams
I've been playing with the idea for a while and have decided to move forward with a plan to allow members to claim their Twitch accounts on Gaiscioch.com and then earn Social Points for watching the streams. Viewers who link their account to Twitch will be given credit watching our streams. In addition members that follow our channel will earn 100 social points. There will be a new Social Adventure known as Twitch where our viewers can discuss the show and get involved. You can even check your Twitch Rank. Our hope is this will help us grow our Twitch presence to help introduce our community to more gamers.
Gaiscioch Family Promotions:
I wanted to take a moment to say congratulations to a few members this month for accepting their next credo and stepping into a new role in our family.
Guardians (Seaimpín)
The Gaiscioch Family Guardians are an advanced part of the Veteran Members group and serve as the front line of our family. They help newer members learn about the family, our website, and our belief system. They occasionally will need to help get conversations back on track, or report misdoing's to the family elders. They act as advisors, guidance providers, and overall protectors of the family name. By this time a member should be involved in the family for more than 6 months and has been an active attendee in family events. For those who prefer fellowship over leadership this is the last stop on the family tree. Members must prove their leadership ability to progress to the Leadership ranks through the accumulation of both Valor Points (Earned through leading events.) as well as earning Tokens of Valor from lower ranked members of the family.
» Kelixa » Lolhost » Lorax » Thoi » Whoflung
Veteran Members (Curadh)
Veteran Members have proven their devotion to the family by participating in events and contributing to the family's success. They have been active more than 90 days and have continued to be contributing members to the family.
» Atalle » Dallamir » Runamok » Sethik » Trithian » Wolvain
Official Members (Lorgaire)
Official Members have earned the rank of Lorgaire and have accepted the Mark of the Kindred credo. They have officially decided to become members of the family and start their journey to ascend the roles of the Gaiscioch Family.
» Atticus » Beliar » Bowbender » Butterdtoastneggs » Eastie » Flexx » Geisthund » Granlaf » Mairead » Mazzar » Ruthloseth » Salgooden » Thelen » Thorgallis
Gaiscioch By The Numbers
Magazine
Group
Total
Subscribers
5,267
Readers
35,074
Views
817,387
Chapter 4:

Materials Needed!
We are getting quite low on several materials that allow us to build Trophies, Siege Weapons, and our upcoming Fractal Console. Here are some of the supplies you can send to Foghladha.2506 for donation credit.
Critically Needed Materials:
Piles of Flax Seeds

Milling Stones

Piles of Coarse Sand

Pouches of Pigments (All)

Piles of Crystalline Dust

Piles of Luminous Dust
Also we are in dire need of "Fragments of Solid Ocean? which can be purchased from Fion [Guild Decoration Trader] in guild hall for 150 Fractal Relics. While we can not offer contribution for these as there's no way to track, these will allow us to create the Fractal Console.
Please Welcome Our Newest Members
Please welcome our newest members to our Guild Wars 2 family.
» Arshesne [Arshesne.3918] » Benian [] » Dagger [KhaNe.8479] » DaRealUser [DaRealUser.7296] » Div [Divination.9157] » Gloves [LeatherGloves.5763] » Jacephanto [jacephanto.4861 ] » Lightbringer [Valan.1598] » Ninja [Ninjaxdeath.9542] » Ninjaxdeath [] » ParadoxK [riBiBit.1243] » Xerxes [Xerxes.6285] » XYLO [] » Yori [HippityHoppitus.3089]
Guild Wars 2 Events at a Glance
All Times Pacific
Mondays

Tuesdays

Wednesdays

Thursdays

Fridays

Saturdays

Sundays
Top Guild Wars 2 News For March, 2018
Legacy Chapter 5:

The Next Chapter Announced!
Explore an all-new zone packed with adventure. Join the mysterious Psijic Order and gain powerful new abilities to aid you on your quest. Reunite with old friends, forge new alliances, and work together to unravel a conspiracy that threatens Tamriel's very existence.

The epic saga continues in The Elder Scrolls Online: Summerset on June 5.
FEATURES
Summerset Zone

Epic New Story

Psijic Order Skill Line

Jewelry Crafting

Cloudrest Trial

Abyssal Geyser Events

New Delves, Public Dungeons & World Bosses

New Collectibles, Crafting Motifs & Gear
If you Preorder the Summerset Digital Upgrade you will receive Morrowind as well. This is a great chance to get caught up.
Chronicles of Tamriel Public Community Event kicks off April 19th
Our first ever Public Community Event in Elder Scrolls Online launches this month. We're using it as a trial to measure interest and see if there is a demand for more of these events. It's shorter than our traditional event lasting only 5 weeks but has quite the raffle pool including hundreds of items for housing, crafting, and more. Be sure to register or login using your Gaiscioch Passport at: https://gsch.info/cot
Please Welcome Our Newest Members
Please welcome our newest members to our Elder Scrolls Online family.
» Benian [@Benian] » Dagger [Ghargg] » Donaref [@Lanthanoid59] » Kayliah [@Kayliah_Vexx] » Lexx [@LexxFire] » Malcavianofdoom [] » Mauler [@rickardsred] » Shyone [@acerbot] » Slotty []
Elder Scrolls Online Events at a Glance
All Times Pacific
Top Elder Scrolls Online News For March, 2018
Legacy Chapter 3:

Please Welcome Our Newest Members
Please welcome our newest members to our RIFT family.
» Arshesne » GuilianaGray » Malcavianofdoom » Meraslyss
RIFT Events at a Glance
All Times Pacific
Top RIFT News For March, 2018
Legacy Chapter 2:

Marketplace Now Open!
For those of you looking for Talismans or Potions you can now order them directly off our Warhammer Online Marketplace using Family Vault Credits you earn by participating in Gaiscioch Events. You can order Materials for crafting as well. If you find a material or recipe that is not in the system, you can add it to earn Discovery points toward your Explorer rank. By filling crafting work orders for Talisman Making or Apothecary you can earn Artisan Points. By filling materials requests you will earn contribution which is required for several roles in our community. Head over to the Gaiscioch Marketplace and check out what's available at: https://warhammer.gaiscioch.com/marketplace/
The Tuatha Alliance Resurrected
Our original Warhammer Online Tuatha grew to include over 60 guilds. For Return of Reckoning as there are no custom chat channels we will only be able to grow to be 10 guilds. The first two are Gaiscioch and Gaiscioch T1. We are in talks with several guilds looking to be an extended part of our family. This is a great opportunity for us to get connected with even more people to help coordinate things. Once we have formed the Alliance we will begin using /as (Alliance Chat) as our primary chat channel. Since our guild will span multiple guilds, we will be disabling guild chat for most ranks and require everyone to use /as instead. We did this on live and were very successful bridging the communication barrier. Anyone in our alliance chat is considered family regardless of what guild they are in. Please be sure to keep it family friendly at all times and keep those blades out, not in.
Guild Progress
Both guilds are progressing nicely. By the time you read this Gaiscioch T1 will almost be level 6 and Gaiscioch will be creeping up on 17, where we will gain access to porting to Sigmar's Hammer in Altdorf. Be sure to logout there as you will earn rested exp faster there than anywhere else. Once Gaiscioch T1 hits rank 6 we will be bringing them into the alliance and can start having new T1 characters join Gaiscioch T1. This room of our house will be entirely focused on leading and participating in Tier 1 RvR. For those of us that rotate characters in Tier 1 this will be your base camp. The ingame Guild Calendar will be used to display upcoming scheduled Tier 1 RvR events, while the Gaiscioch calendar will be used for upcoming scheduled Tier 2-4 activities.
Overall we are progressing nicely and growing at a rapid pace. Since launch in January we've become the 5th largest Order guild in Return of Reckoning and we are not far off from becoming the largest overall. I suspect by the end of April we will be the largest community in RoR.
Testing Opportunities
If you love Return of Reckoning and want to help test it, be sure to head over to our forums. We have a special invitation to join the testing crew and help shape the future of Warhammer Online including the reveal of the Capitals that never made it into live, Blacksmithing, and all new character classes. Please note this opportunity is to help make the game better, not to get a jump on new content. You will be expected to report and communicate what you find to the team. Visit: https://gsch.info/p/241197 to learn more.
Please Welcome Our Newest Members
Please welcome our newest members to our Warhammer Online family.
» Arshesne » Boendale » Bowbender » Caius » ChicagoJoe » Mairead » Malcavianofdoom » MuscleMatt » NilckyDeathstrider » Slik » Slotty » Stormin » Taze » XMAT
Warhammer Online Events at a Glance
All Times Pacific
Social Adventures News
Bless Online Coming in May
A few of us have been patiently waiting for Bless Online to release in the US. It was originally slated to launch in 2017 however after a dicy launch in the east the team decided to take its combat system back to the drawing board to make it more engaging. After a massive overhaul of several systems it's ready for Early Access on steam. Learn more at http://store.steampowered.com/app/681660/Bless_Online/.
Bless Online is a Buy-to-Play MMORPG from NEOWIZ featuring a deep PvE world filled with dungeons, raid bosses, and world bosses, as well as a full PvP / Faction vs Faction war. I have plans to form a GSCH on the Hieron faction shortly after launch and will be streaming it regularly.
Watch the Trailer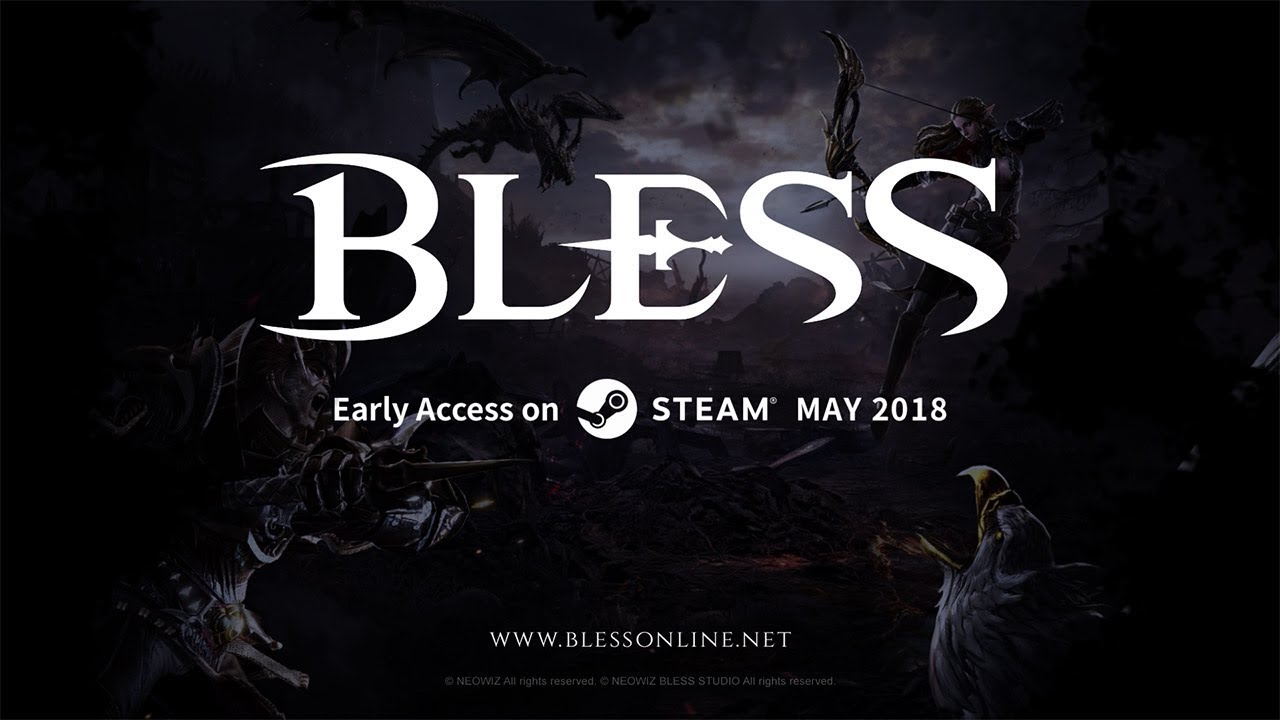 Tera PS4 Launched!
In a surprising turn of events Bluehole announced that they would be releasing Tera for PlayStation 4 on April 3rd. This announcement followed 3 very rocky beta tests that were overwhelmingly filled with bugs and server issues. This quick of a launch could be catastrophic if they have not sorted out their issues. Regardless, the Gaiscioch have never shied away from a challenge! We will be working our way to opening a GSCH in Tera on the Dracoloth server. It launched for Headstart on the 27th. Discuss the launch at: http://gsch.info/p/241226
View Full Social Adventure Directory
Gaiscioch Magazine News
Issue 15 Coming in April
The long overdue Issue 15 finally has a cover story! We are hard at work flushing out the issue. Keep your eyes peeled for the release announcement. This will be our last issue in the current format. After watching the analytics for the past few issues we've noticed we get more reads in the average article publishing it on our site than we do in the actual browsable magazine.
Migrating to a new Format
This has led us to decide to go straight to web and classify our Issues as Quarters. We will publish content direct to the site as articles come in and each "Quarter" will have an Issue with it's articles grouped together. Each Issue will still be browsable on our website for easy access to content but we will be ditching the magazine layout for a modern mobile friendly web layout. Combined with RSS Feeds, a Flipboard, and a quarterly email issue guide we hope that we can explore a new future of Gaiscioch Magazine.
Be sure to check out our latest stories and gaming news at: gsch.info/mag
Gaiscioch Livestream News
April 2018 PlayStation Adventures
PlayStation Adventures continues with a few new additions to the lineup in April. Hang onto your seat belt as Donaliam, Radiologikal and Foghladha evade hordes of zombies in Dying Light on Mondays. Tuesdays we will take on a Cult in Montana in Far Cry 5 as Radiologikal and Foghladha unleash shenanigans. Wednesday we take a trip to Dungeon Defenders 2 for some cartoony action. Thursdays we continue to learn the hard way as Henry a survivor of a brutal assault on his home town in Kingdom Come Deliverance. Finally we wrap up the week with Tera on the PlayStation 4. Anyone that would like to join the adventure with us is welcome. We welcome your suggestions and feedback!
The Siege War
Weekend Warriors
This past month we relaunched Weekend Warriors as a scheduled livestream event. We will be exploring several games on a rotating schedule. This will not be an every week stream, but will have a schedule you can subscribe to. Here's our April 2018 lineup.
April Episode Linup:
Closing Notes
Closing Notes
Looking back at 40 years I'm so grateful that my wife, Juliana, and best friend, Don, encouraged and supported me in restoring Gaiscioch to its full glory. It has been a special part of my life and has allowed me to meet so many people I otherwise would have never had the opportunity to meet. I am thankful everyday for such an awesome supporting community that goes beyond the game. Thank you all for making this journey so memorable.
Slan Go Foill!
(Goodbye For Now)
Benjamin "Foghladha" Foley
Taoiseach de na Griobhta Glas