Eanáir 2017
(January)
Cead Mile Failte!
Happy new year everyone! We are at the doorstep of 2017 and ready to part with what I consider an epicly bad year. We can only set our minds to the future and thrive in 2017.
Get Involved
Gaiscioch Family News
Gaiscioch Magazine Issue 11 Ships!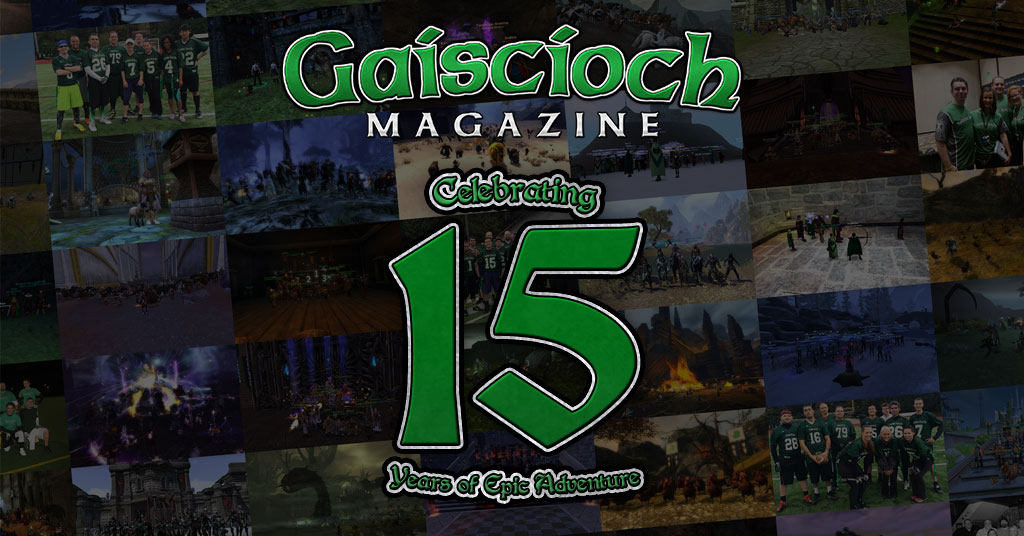 This issue's feature story takes us into the workshop of Enayla Cosplay to learn from her masterful craftsmanship. We also share the spirit of charitable work with interviews from SpecialEffect and Game Changers.
Professional streamer AngerBeard and professional gamer James Dean share their stories of success and gaming with us. We also take an in-depth look at the benifits of gaming that mainstream media loves to ignore.
With the release of RIFT Starfall Prophecies, we also dive in with a new player guide, a guide about currencies and a walkthrough to the Nightmare Saga Act 1. We also reveal plans for the return of the Telara Saga, a 10-week public community event hosted by Gaiscioch.
Deeper within we have a hands-on sneak preview of Shu, Lost Ember and Yesterday Origins. We take a look at some of the latest games to become available including Tiger Knight Empire War, Yomawari Night alone, Sims 4: City Life, Ori and the Blind Forest, and We Happy Few.
With 2017 ramping up to be the year that puts "massively" back into multiplayer games, we've got your first look at 16 massively multiplayer games paving the way.
Check out the new issue at:
http://gsch.info/mag-i11
Big Year For MMOs
2017 is shaping up to be a massive year for MMORPGs. This means that we will likely see members wandering off in all directions playing all the new shineys. What's coming in 2017? Let me give you a small list of 10 titles you can look forward to. There are so many I wrote an article in Gaiscioch Magazine Issue 11 about them.
Camelot Unchained
BLESS
Crowfall
Chronicles of Elyria
Dark & Light
Pantheon: Rise of the Fallen
Albion Online
Shards Online
Worlds Adrift
Star Citizen
Now I encourage anyone who wants to play together within these games please join the Social Adventure and link up with other Gaiscioch members. There does not need to be a GSCH in the game for you to play together and claim participation together. You can form your own guilds as you see fit. The concept behind the system is to keep Gaiscioch members playing together wherever they go.
I don't know if any of this will make Chapter status, so far it's not looking like it, but you never know when a surge of interested players may arrive. So what we hope to do is keep people playing together spawn up some social adventures and see what sticks. We've got 3 strong chapters at the moment and should be able to sustain 700+ active members across the 3. 2017 only looks to strengthen those 3 chapters. It's just a matter of how many people flock to the new games and how many stick around for the current games.
Foghladha's January Event Lineup
With the new year I'm kicking off my new event Schedule that will run until the end of January.
Mon @ 6PM PT: Wandering with Style (Raiding) in RIFT (Level 65+)
Tue @ 6PM PT: The Siege War in Guild Wars 2
Thu @ 6PM PT: The Adventures in Telara (Level 48+)
Fri @ 5PM PT: Headhunters in Guild Wars 2
Sat @ 11AM PT: Adventures for All in RIFT (Low Levels Welcome)
Please note once the Telara Saga kicks off February 2nd, our event lineup will change.
The Return of Public Community Events
We are in the stages for final preparation for the Telara Saga 3. Prizes are being amassed, plans are solidifying, and anticipation is growing. We hope that you will join us for this as it is a grand example of what our community is all about.
Once the 10 week series has concluded we will be in full swing for the Great Tyrian Adventure in Guild Wars 2. Fortunately we don't need to grind too much for Guild Wars 2 as we already have many prizes on hand from the last one.
The Gaiscioch Passport
New this month is the Gaiscioch Passport. This passport allows you to register once to our public facing media sites such as Gaiscioch Magazine, ExtraLife, Great Tyrian Adventure, and Telara Saga. It will handle all community event raffles and communication.
By participating in various events players will earn experience which will raise their level. Earning levels will eventually grant you credits that can be used to purchase in game loot and special prizes.
I plan on creating little decals to act like stamps to show the things you've participated in. I'm sure it will be a fun system that keeps things interesting.
This system will be separate from the Gaiscioch.com membership system but can already link your account to your Gaiscioch.com membership account. Be sure to register asap to lock down your handle.
Get your Gaiscioch Passport at:
http://www.gaisciochmagazine.com/register.html
Gaiscioch Family Promotions:
I wanted to take a moment to say congratulations to a few members this month for accepting their next credo and stepping into a new role in our family.
War Council (Tiarna)
The War Council is comprised of members who have stepped up to lead events and activities for the family. They have proven themselves on the battlefield and have collected 25 signatures of approval from their followers. They have accepted the Mark of Servitude credo and understand that Leadership is not a position of power, it is a position of service. They have committed themselves to hosting fun and friendly events for the community at large.
» Jairone
Official Members (Lorgaire)
Official Members have earned the rank of Lorgaire and have accepted the Mark of the Kindred credo. They have officially decided to become members of the family and start their journey to ascend the roles of the Gaiscioch Family.
» Kennocha » Modestus » Nahyd » SonjaDarshan
Gaiscioch By The Numbers
Population
Group
Active
Guild Wars 2
267
RIFT
207
Elder Scrolls Online
175
Social Adventures
97
Total
633

Magazine
Group
Total
Subscribers
4,731
Readers
23,009
Views
195,290

Followers
Media
Total
Twitch
535
YouTube
439
Twitter
716
Guild Wars 2 News
Preparations Begin for the Great Tyrian Adventure
As we creep ever closer to the launch of the Great Tyrian Adventure Season 4, I will be collecting Exotics, Precursors, 20-Slot and 18-Slot bags to build up our cache of loot. I'm not opposed to crafting up a few legendaries to give. We still have a Dawn on hand that can get upgraded as well as a few lesser precursors. But I would need someone that has the world completion tokens to be able to help craft these. I still don't have world completion.
We will also be spending Fridays mapping out a path for the new adventure. These events will be traveling around fighting world bosses, temples, and doing mini-dungeons.
I've registered GreatTyrianAdventure.com and will begin migrating the GTA over to it's own site. The new Great Tyrian Adventure will use the Gaiscioch Passport system instead of the Sanctum of Rall system. This should help tie it to our Magazine and other events nicely. I'm hoping that the Passport will help build readership and viewership of our livestreams and magazine while providing a singular platform for launching Public Community Events in the future. With a Rewards management system, participation claiming system, and account management system all being uniform across all of our media sites, it will help reduce the time needed to build out these events.
SanctumofRall.com Transition
I know I have a lot of cleanup to do on the SOR site. Many of the features I built for the site are no longer useful and at this point can be removed or hidden. I want to change the SOR site to accomplish 2 things.
Be a lasting Tribute to Roger "Oldroar" Rall
Be a pitch to introduce players to the life of a Mercenary of Rall.
I think Sanctum of Rall has an unique ability to recruit more players and guilds under the concept of a server without politics, a server without drama. Nothing but the fights. We are one of the few places in Guild Wars 2 where no matter what happens we aren't punished for it, we don't have to play the server politics game, and we can play in T1-3 at any given time. It's a great place for fight guilds who are tired of transferring over and over again due to server implosions.
I think if I can get the messaging right we might be able to grow Sanctum of Rall again. We still get traffic to the site but it's largely unused by the registered members. I'm also going to open it up to Captcha registration so no secret word will be needed.
Please Welcome Our Newest Members
Please welcome our newest members to our Guild Wars 2 family.
» Azerbaseball32 [azer.6034] » Cynstriss [cynstriss.5063] » Kaeridwyn [zhuriel.9641] » Modestus [Modestus.5137] » Nikal [Nikal.4921] » Tobias [Zahlenmonster.2703]
Guild Wars 2 Events at a Glance
Top Guild Wars 2 News For December, 2016
RIFT News
The Telara Saga Returns With Season 3
We are but one month away and building up our prizes for the Telara Saga Season 3. Throughout this 10 week event players will earn a wealth of achievements and special loot. We will be unlocking the full set of Great Hunts, Nightmare Rifts, Strongholds, and even taking down some world bosses. Here's our tentative outline:
Chapter One: Rallying the Troops
Minimum Level: 5
The inaugural kickoff event, this event is open to everyone to ask questions, get involved and win some sweet prizes. The first chapter allows players of any level to join in the fun as we take down Nightmare Rifts. We will be traveling to Stillmore for our first event and form 3 raids to start. 1 for levels 1-49 and 2 for levels 50+. Each group will get the achievement for killing the Baron. The lower level raid will spawn raid rifts then a nightmare rift while the high level groups will speed clear River of Souls and Greenscale for achievements and a mount. After completion of the raid all groups will join forces and drive the nightmare rift as high as possible.
February 2nd 2017 at 6PM PT - Battling the Nightmare Tide
Chapter Two: Assaulting the Dragon Cults
Minimum Level: 48
In chapter two we take on each of the dragon cults gaining achievements, dimension items, and content unlocks. Agenda includes unlocking Hunt Rifts, Great Hunt Rifts, Stronghold, and World Boss achievements. By completing all 6 weeks all players will have earned a minimum of 6 hard to get Dimension trophies.
February 9th 2017 at 6PM PT - House Aelfwar
February 16th 2017 at 6PM PT - The Endless Court
February 23rd 2017 at 6PM PT - The Golden Maw
March 2nd 2017 at 6PM PT - The Storm Legion
March 9th 2017 at 6PM PT - The Abyssal
March 16th 2017 at 6PM PT - The Wanton
Chapter Three: The Assault of Ahnket
Minimum Level: 64
In our final part of the Telara Saga season 3 we assault the comet of Ahnket. We will be targeting Major Rifts, Zone Events, Onslaughts, Planar Assaults and Fortresses.
March 23rd 2017 at 6PM PT - Assaulting the Strongholds
March 30th 2017 at 6PM PT - Breaking Ground
April 4th 2017 at 6PM PT - Storming the Fortress
We are actively accepting donations of items worth more than 20P. Send them directly to Foghladha for donation credit. Please do not send items worth less than 20P as we do not have the inventory or vault space for them.
Highly desired items: Orphiel Farwind (Dimension Item), Regulos (Dimension Item), Gold & Purple Dimension Keys, REX, and Starfall Prophecies Standard Edition (Loot Item).
Sign up and learn more at: http://www.telarasaga.com/
The Marketplace
For those of you new to Gaiscioch and new to RIFT, I wanted to point out our Marketplace. By participating in events, filling work orders and donating to the community you will earn Family Vault Credits. These can be used on the Marketplace and Loot Vault to request certain items. From bags to weapons and armor to crafting materials anything that is crafted or gathered is acquirable in the Gaiscioch Marketplace for Family Vault Credits.
Be sure to head over to the Marketplace and order some gear or supplies.
http://www.gaiscioch.com/marketplace/
Raiding with Foghladha (Wandering with Style)
Any of those legacy members reading this probably just shot whatever they were drinking through their nose. Don't worry, Foghladha doesn't raid, I wander with Style *wink*. In our first week out we managed to complete 3/5 of Mount Sharax and in our second week we toppled the first boss in Mind of Madness (T3 Raid). We are actively working our way to the Tier 3 20-Man raid Mind of Madness. In the meantime we plan to fill the gaps in our Raiding profile. We will be taking on various raids on Monday Nights @ 6PM PT in January.
We plan on keeping this event light hearted and free of people yelling at each other. This is a casually fun romp through raiding content. Right now I'd like to see a full raid, So far we've been defeating 20-man content with 15 and those extra 5 people would go a long way to seeing these bosses fall. As we all level up to level 70 I'm certain we'll be able to burn through a lot of these quickly.
That said, I don't want these to turn into a frustration so if we can't beat a boss in 5 attempts we will change raids. We'll come back to the boss later, with better gear and more experience. The key to Wandering with Style is keeping it fun for everyone and nobody likes losing over and over again. There is plenty of content to clear, plenty of achievements to have, and plenty of shiny loot to collect. No need trading trash loot for grey hair.
Follow our Progress at:
http://www.topofrift.com/guild/gaiscioch-_-faeblight
Please Welcome Our Newest Members
Please welcome our newest members to our RIFT family.
» Aamelia » Blythe » Cliodhna » Healya » Keeki » Renner » Tobi
RIFT Events at a Glance
| | | | | | | |
| --- | --- | --- | --- | --- | --- | --- |
| Mon | Tue | Wed | Thu | Fri | Sat | Sun |
Top RIFT News For December, 2016
Elder Scrolls Online News
Housing On The Way!
Woo hoo! This was one of the things I spoke with Matt Firor about when I was out there and he said they definitely were working on it but wanted it to be awesome and unique if they were to go live with it. I suspect we'll be in for a treat. There's also rumors floating about regarding a true ESO expansion that might be announced this year. Not sure how true the rumors are and nobody at ZeniMax has verified that it's something on the horizon, but if there is something we will likely hear about it at PAX East. Matt Firor did say that there was something big coming to ESO but he wasn't at liberty to share it yet. So cross those fingers.
I suspect in 2017 we're going to see some slow but steady growth in this chapter. As new features begin rolling in and ESO builds up on the base it has fortified I suspect players will begin slowly drifting back in. ESO still has a great core of players keeping it alive that are truly passionate about the game. Even if we gain a few more of those passionate folks it would go a long way to building up our charter.
Please Welcome Our Newest Members
Please welcome our newest members to our Elder Scrolls Online family.
» Kaeridwyn [@kaeridwyn] » Logos [@Shiroe-Logos]
Elder Scrolls Online Events at a Glance
Top Elder Scrolls News For December, 2016
Social Adventures News
| | |
| --- | --- |
| New Adventures | Popular Adventures |
Join a Social Adventure Today!
Gaiscioch Magazine News
| | |
| --- | --- |
| Popular Stories: | Popular News: |
Be sure to check out our latest stories and gaming news at: gsch.info/mag
Gaiscioch Livestream News
2017 Livestream Lineup
We've put more than 2 years into streaming the latest and greatest games to our audience. Through experimentation we've found that our viewers enjoy watching our community events and thus we've migrated many of our primetime livestreams to cover these. Here's a look at what you can see on our livestreaming channels.
Mondays @ 6PM PT: Wandering with Style in RIFT (Raids)
Tuesday @ 6PM PT: The Siege War of Guild Wars 2 WvW
Wednesday @ 5PM PT: Smitty Sabres in Guild Wars 2 WvW
Thursday @ 6PM PT: Public Community Events (Telara Saga & Great Tyrian Adventure)
Friday @ 7PM PT: Smitty Streams
Saturday @ 11AM PT: Weekend Adventures in Telara
Sunday @ 11AM PT: Weekend Warriors
Weekdays @ 3PM PT: Side Quests PS4 Adventures
We are also doing some more specialty shows that are "On Demand" like Guild Wars Adventures and Gaiscioch Presents. These will be scheduled when needed and be targeted at a "after broadcast" viewership on YouTube.
January Episode Linup:
Closing Notes
While 2016 was one hell of a rough year for gaming, for civilization, for celebrities, and for many of us, the year 2017 is shining on the horizon filled with hope, anticipation, and excitement. Hopefully 2017 will bounce back and lead us through another great year. I for one am looking forward to sharing the next year of adventures with all of you. Happy New Year and I'll see you in 2017!
Slan Go Foill!
(Goodbye For Now)
Benjamin "Foghladha" Foley
Taoiseach de na Griobhta Glas